Well it turns out that lock picking is addictive. I've been going a few days and I've already got my yellow belt and I've opened a lock for my orange belt (Master Lock 150). I've bought another lock for my orange belt and locks for my green belt. I suspect the green belt locks will be where things start getting a bit tougher. I'm still having some trouble detecting each pin with the pick but it's getting clearer. The Tri-Circle locks that I was struggling with a few days ago now pop open as east as look at them.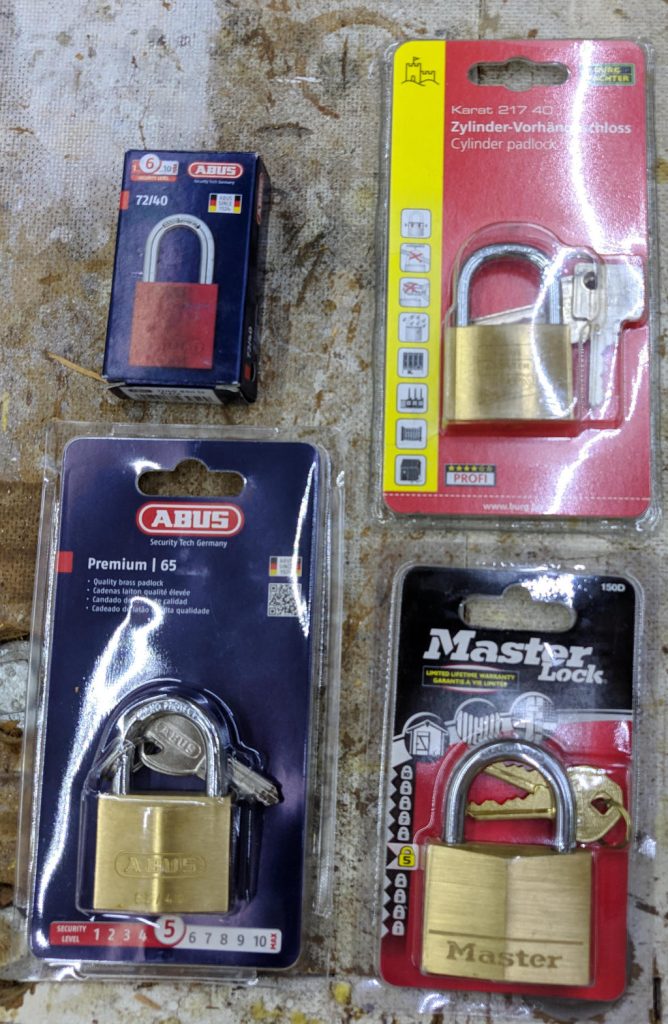 Master Lock 150EURD
Another trivially easy lock from the Master Lock range. This is the the same as the Master Lock 150 sold in the US and is marked as such on the body. The pinning is easy to feel and the keyway is nice and open to facilitate picking. A modest amount of top tension allows for super easy access. This one was opened within 5 minutes of arriving and most of that time was spent looking for my tools.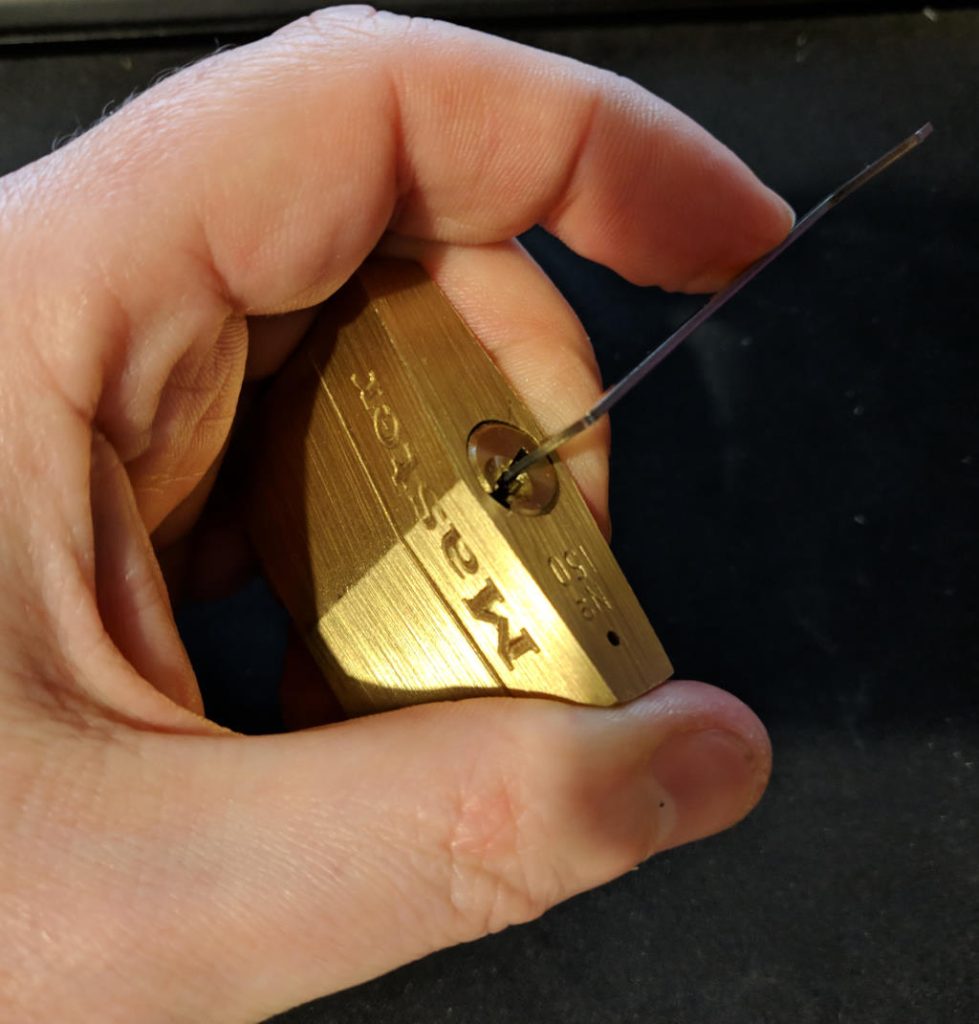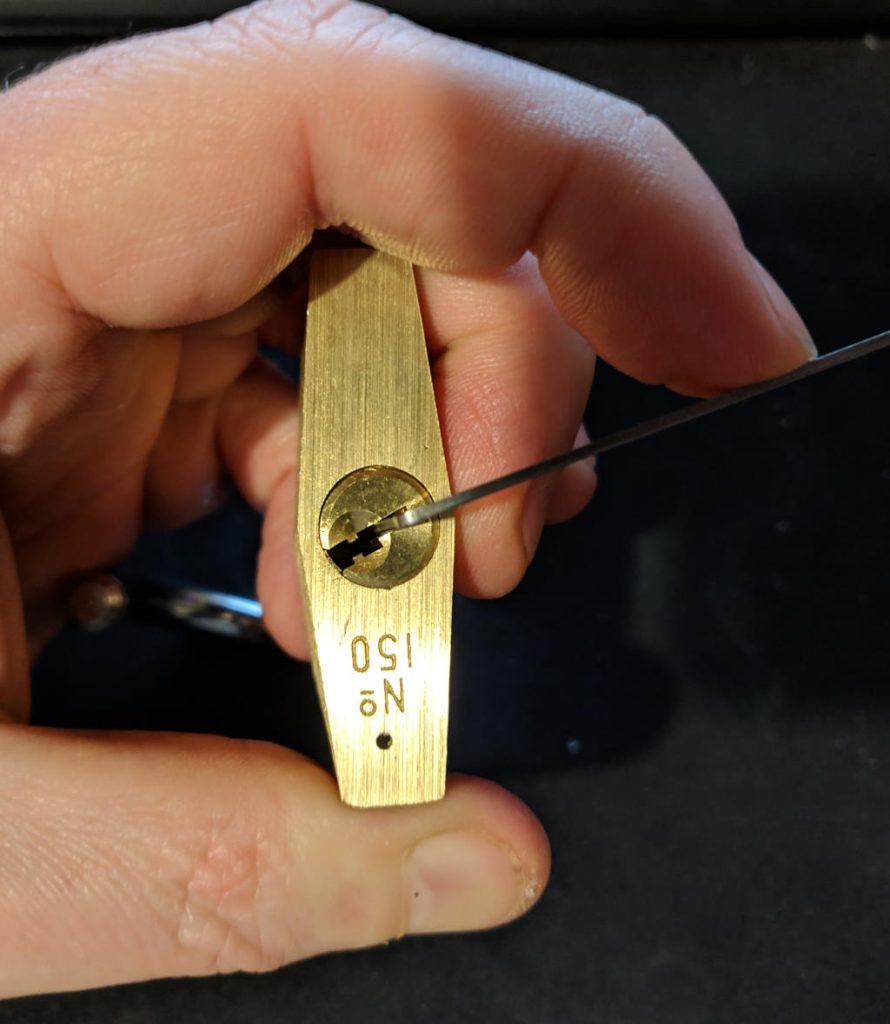 I thought this lock required a short update. I picked this lock within a few minutes of getting it out of it's packaging and then totally failed to pick it again for a week. As I'm sure you can imagine that was down right frustrating. I'm not entirely sure what I was doing wrong but I think I was getting heavy handed with the spool pins. This is the first lock I've picked that definitely contains spool pins. I've seen one gutted and it contained four spool pins, I have a feeling this one only contains three. I've popped it maybe 20 times now although I'm far from quick about it.
Abus 65/40
This is another orange belt lock but it's a fair bit more challenging than the Master Lock 150 due to the tight keyway. None of my existing tension tools fit well either top or bottom. I can just about get tension at the top but the angle the pick needs to make to get to the pins requires thinner picks than I have I think.
Abus 72/40
A green belt lock priced at £16.84. Feels absolutely lovely in the hand, just the right balance of weight and size. The core is removable on this one which is a requirement for the green belt. After having a bit of a crack at this lock I came to the conclusion that my existing tools were too wide to effectively pick this lock. Measuring them they were 0.7mm which is quite thick for picks, most standard picks seem to be around 0.6mm. Since the other Abus lock I own (above) and the Karat (below) all have very narrow keyways I went for the Valyrian Euro Set from Law Lock Tools which are just 0.5mm. It's still tight but at least I can get the picks in now.
Abus 72/40 as a Training Lock
Part of the requirements for the green belt are to gut a lock on camera which is why I picked up this lock. Being unable to pick it I decided to gut in and familiarize myself with the mechanism. When I came to put it back together I had the idea of leaving some of the pins out to make it easier to pick. It's turned an impossible lock into one I can now vary the difficulty of. I've started to develop a much better feel for how spool pins are picked although I still struggle with them a bit.
After a few days practicing with this lock and steadily adding more pins I managed to pick this lock with all six pins in place. In some ways I actually find this lock easier than the Master Lock 150 that I used for my orange belt. The better machining in this lock gives clearer feedback.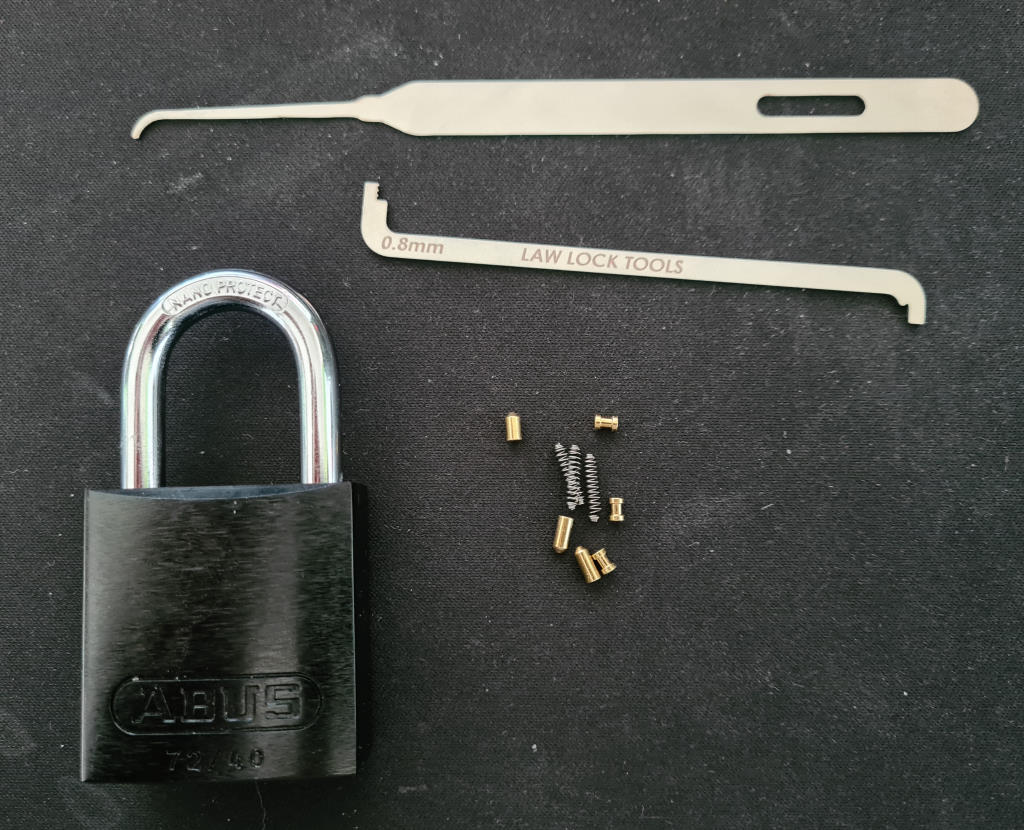 Burg Wächter Karat 217 40
I'd not heard about this brand of locks until I started picking. This is a green belt lock and seems to be fairly easy to get in the UK. This one wasn't cheap at £12.79 but it should put up a bit of a fight.